How Quickly Will LED Lighting Pay For Itself?
How much money could you save by switching to LEDs? Fill out our ROI calculator to get an estimate. Energy House clients typically put more money back into their pockets between energy savings and rebates from Focus On Energy.
While our calculator is based on years of experience and hundreds of installations near Waukesha and beyond, it is just an estimate. Contact Energy House to get an on-site evaluation for a more precise projection of how much LED lighting installation could save your company. As energy-saving contractors, we also offer solutions to help you save money on your electric bills.

How it Works
How Do I Get My ROI Calculator?
Fill out the form below with your contact information and submit. You'll receive an email with the calculator attached as an Excel spreadsheet. Then simply fill out the fields for each type of fixture in your facility.
To Use the LED Lighting ROI Calculator:
To get a complete estimate of the ROI you can expect from upgrading to LED lighting you will need:
A full inventory of your facility's lighting fixtures
The wattage of your current bulbs
The wattage of the replacement bulbs
Approximately how many hours per day your lights are turned on.
If you're looking for an exact estimate on how much you could save by switching to LED lighting (interior, exterior, parking lots, or more), contact us to set up an in-person estimate.

LED Energy Savings Calculator
Complete the form below and you will receive our energy savings ROI calculator in your email.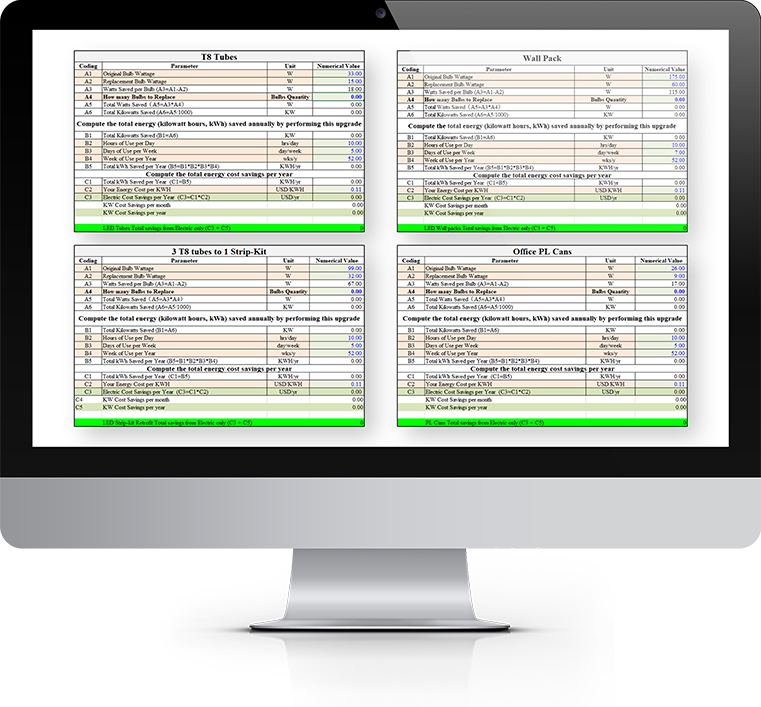 Frequently Asked Questions
Don't see the answer to your question here? Contact us to get more information or schedule an on-site estimate.
Yes, LED bulbs are more energy-efficient and consume less energy doing so. Use our ROI calculator to see the difference for your business.
Through our 17+ years of experience, we've developed an ROI calculator which takes into account your facility's lighting fixtures, wattage of current bulbs, wattage of replacement bulbs, and daily lighting runtime.
Though exact break-even points depend on multiple factors, LEDs typically pay for themselves within the first 5 months.