Wisconsin Energy Audit: Cut energy bill by 36%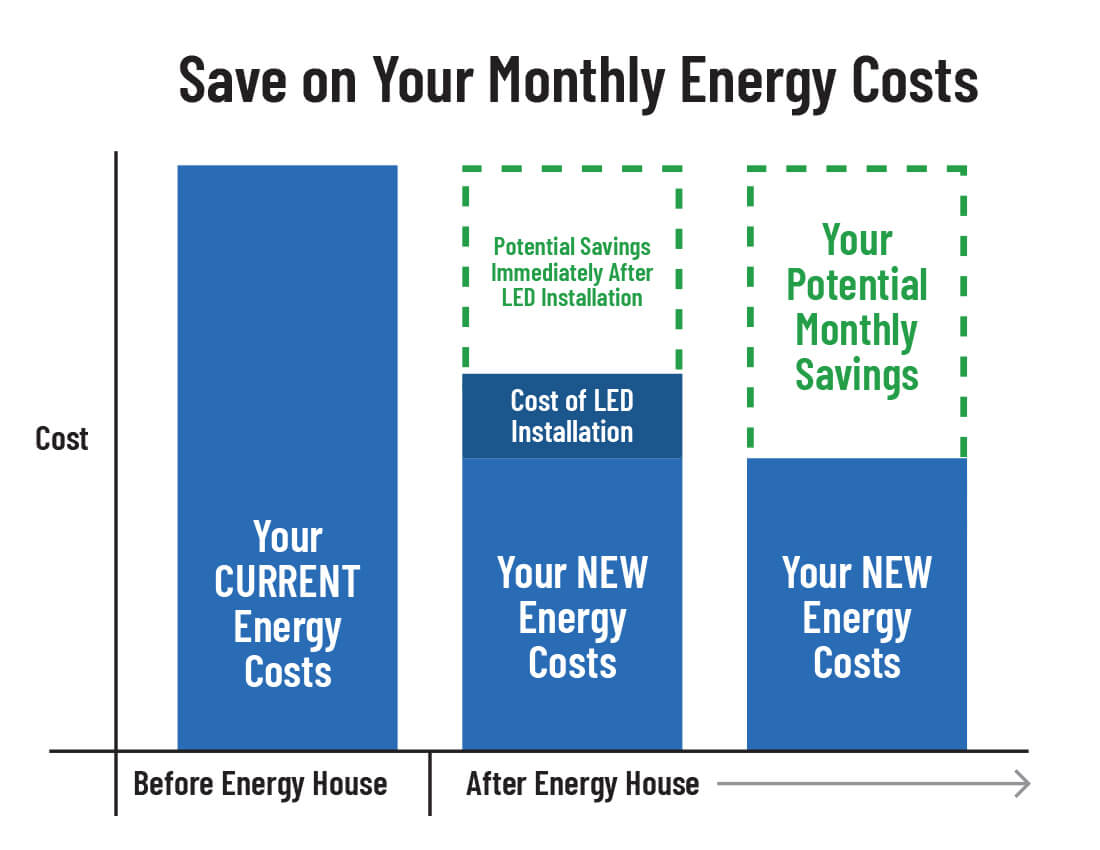 LED lighting solutions provide substantial savings on your energy bill every month. Not only do they pay for themselves in little to no time, they also boost your facility's profit margin for up to 20 years. Investing in LED light retrofits for your business will provide a remarkable ROI and leave you wondering why you didn't have LEDs installed sooner. If you've been searching "how to reduce electricity bill," this is how.

Contact us for an on-site estimate
How Energy-Efficient LED Light Installation Reduces Operating Costs
The best way to save money on your electric bill is to use less electricity. It's not complicated. The more energy-efficient your business or property is, the more money you save. With Energy House LED light installation, you will save enough money every month to pay for the installation (take that contractors!) AND still have savings left over. Once the full cost of the installation is paid for, you will continue to save on your electric bill every month for years to come. You start saving day 1 and continue saving even more, long after we're gone.
The Facts About Commercial LED Installation Savings
To better understand just how significant your potential savings are, consider these 4 facts about your business's energy bill.
On average, 40% of your business's electric bill is just for lighting. The average monthly electric bill for a small business in the USA is $670, which means it costs an average of $268/mo. just to keep the lights on.
LED lighting will save you anywhere from 40-90% on the lighting portion of your energy bill. That's 16-36% off your total bill every month!
LED tubes have a lifespan of 5-20 years, requiring less maintenance and reducing any associated expenses.
LED lights also do not emit any heat, providing additional savings on cooling costs.
As the most energy-efficient lighting available, a single LED installation could save you tens of thousands of dollars in the long run - not to mention the rebate and incentive programs. We're the best of the best when it comes to improving your facility with LEDs. Once we show you what you could be saving, you'll realize commercial LED installation is a no-brainer.

Maintenance Savings of LED Retrofitting
Not only do LEDs save you money by consuming less energy, but they also require far less maintenance than traditional lighting. Incandescent lighting produces more heat than light and requires your facility's air conditioning to work even harder to offset the heat produced by inefficient lighting. LED bulbs also last for thousands of hours which further reduces your maintenance costs.
Better Lighting + Saving $$$ = Win! Win!
Milwaukee Energy Audit: Commercial LED Lighting Consultation
The first step to lowering your energy bill is to have an Energy House lighting consultant come out to your facility and perform a FREE energy audit. With this information, our LED lighting experts will determine the optimal approach to your LED installation. Our lighting consultants will provide a formal recommendation for improving the energy efficiency of your lights, along with an estimate for installation costs and your overall savings - the money you could save will surprise you! Request our FREE LED lighting ROI calculator today to get an idea of what you could save with LED upgrades.
Contact Energy House for a FREE LED lighting consultation and reduce your monthly electricity bill.